General
VRC is proud to announce the VRC 2023 Winter GTE Series.
The series uses the Studio 397 GTE Endurance pack. It can be purchased here: GTE Endurance Pack
The series consists of 1 Pre-Season Race and 11 Points races. 9 out of 11 races count towards series points so you can have a couple off weeks.
Races will be streamed live in our VRC Youtube channel.
Race start has a formation Lap (under Speed Limiter) with Rolling Start.
Each driver is required to perform a mandatory pit stop, taking on a minimum of 2 tires. The driver may choose when this pit stop happens. Penalty stops do not count as a pit stop. Pit stop during formation lap does not count as a mandatory race pit stop.
Allowed assists will be Auto Clutch only. Drivers may change Traction Control and boost under setup options.
Car damage is set to 60% in the server.
The calendar, results and standings can be found here on the web site.
Discussion for this series will be done in Discord: Join VRC Discord Channel
The Admins will not allow a driver to race if it is determined that he/she has not practised enough to drive safely around the track.
We have Driver and Team championships (A maximum of 3 drivers per team. Only the top two drivers per race will have points for the team championship.)

Schedule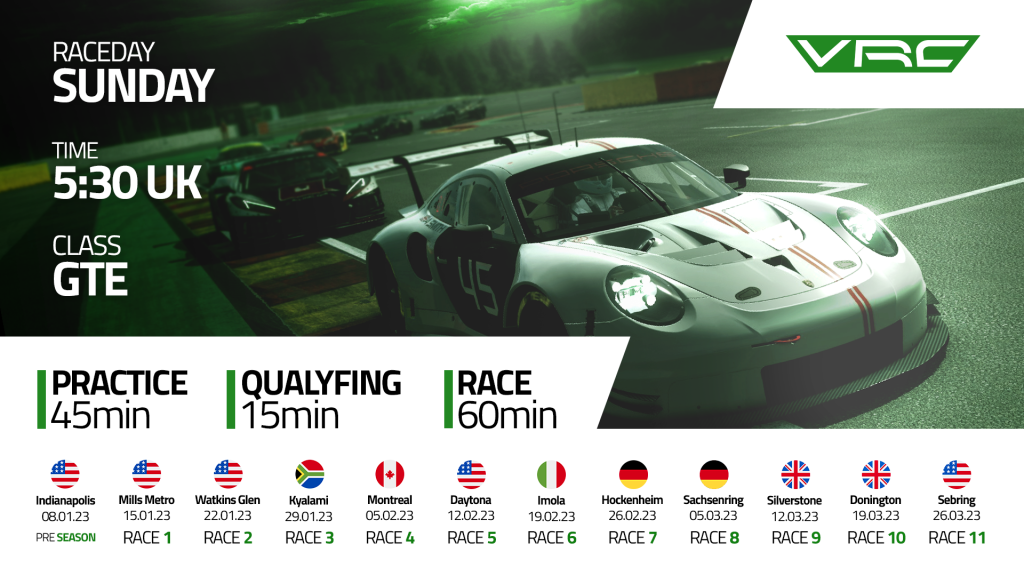 Race Day Schedule
Practice start (45 Mins) 5:30pm UK (12:30pm ET) – Open session.
Qualifying start (15 Mins) 6:15pm UK (1:15pm ET) – Open session.
Warm Up start (5 Mins) 6:30pm UK (1:30pm ET) – Open session.
Race start 60 Mins (plus 4 minutes for Formation lap) 6:35pm UK (1:35pm ET) – Open session.

Weather
We will use the real life forecasted Sunday temperature and cloudiness for the track and set up the server accordingly. Minimum allowed temperature 2 degrees C. (Example: If the upcoming race is at Sebring. The server Admin will check the real life weather for Sunday at Sebring. 32C and overcast is expected. Server temperature will be set up to 32C overcast for all sessions.

VRC Skinpack
You can download it here: VRC SKINPACK (or search for 'VRC' in the rFactor 2 Steam workshop). Just click 'subscribe', wait for the download and you're ready to go. This skinpack is required to join the server. If you experience any issues with the pack, please notify us in Discord using the @VRC Admin tag and we will be looking into it.
You can submit skins for it in the rf2-skin-submission channel in Discord.

Rules
VRC Rules and regulations will be enforced. Please read them. Rules are subject to change at the discretion of VRC Administration.

Points
The top 25 drivers will get points. It is as follows:
32, 28, 25, 23, 21, 20, 19, 18, 17, 16, 15, 14, 13, 12, 11, 10, 9, 8, 7, 6, 5, 4, 3, 2, 1

2 points for the pole
1 point for starting a race
1 point for finishing race while completing at least 75% of leader laps.

There are Driver and Team Championships.

Teams:
A maximum of 3 drivers per team.
Only the top two drivers per race will have points for the team championship.
No need to have the same car or skin.
If you decide to not be part of a team, basically a one driver team, we will create a team for you as follows, &surname& Racing.
Team movement is not allowed as the points travel with the driver

Registration Instructions
In order to ensure the safe and consistent racing our members have come to expect, registration for the series is mandatory. To register click on Series Sign Up tab on the web site, then click on Registration option and follow the prompts.
Registrants must use their real name. On the race server real names are enforced.
Name entered in rFactor is also used for the standings. Avoid changing your name after the first race you participate in, as changing your name will mean that you will have an entry in the standings for each name and points will not be accurately calculated.

Race Participation
There is no enforcement to participate on a minimum number of races. The following guidelines apply on race day:
Maximum capacity in the server is determined by the number of available garage boxes per track. This varies on each track.
First priority goes to Active Drivers, then drivers on the Reserve List (in order of registration on the reserve list).
Very important, if server is maxed out, cut off point to enter the race will be at the end of the official practice session. If we are at the maximum number of drivers when official practice ends, all the drivers who were part of the session can participate in qually and enter the race, regardless of being an Active or Reserve driver. Again, this will be the cut off point and no more drivers can join qually and the race.
If we are below the maximum number of drivers when official practice ends, more drivers could enter during qualifying with priority given to those fully registered.

VRC Admin Team